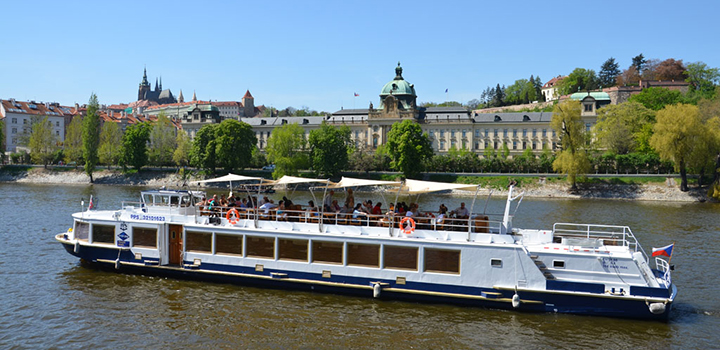 21/6 - STARTING TODAY ALL CRUISES BEGIN AGAIN AT THE USUAL PLACE BY ČECHŮV BRIDGE !!!
All regular Prague Boats cruises (one-hour and two-hour cruises, lunch and dinner cruises) have resumed this week. For now the cruises will be starting fromRašínovo nábřeží.
The boats will sail in the upper part of the river between the Palacký Bridge and Barrandov Bridge.
How to get to Rašínovo nábřeží (Rašín Embankment)?
By tram:
You can get off at the tram stop Palackého náměstí or Jiráskovo náměstí, then it's just a few steps towards the river – don´t worry, you´ll see the boats there.
By metro:
It is the metro stop on line B (the yellow line) Karlovo náměstí. However, there are two exits from the metro, one to Karlovo náměstí and the other to Palackého náměstí (that's the right one you should take). Once you're out of the metro you keep going towards the river and the embankment is right in front of you.
By car:
Parking in Prague 2 is a rather complicated issue especially now after the floods. There are a few green and orange zones nearby, however we recommend not to rely on them. It's possible to leave your car on the other side of the Vltava river (Prague 5 doesn't have parking zones yet) and walk over the Jiráskův Bridge to the embankment, however perhaps the best idea is to leave your car in the Anděl shopping center from where you can take a walk (about 500m) or take a tram – 2 tram stops, trams No. 4, 7, 10 or 14 to Palackého náměstí.