There is no more beautiful dinner in Prague than the crystal dinner on board of our glass boat.
The cruises are always operated on one of our super-modern, luxurious boats: Grand Bohemia, Bohemia Rhapsody or Agnes de Bohemia, which are unique thanks to their glass retractable roofs.
You can look forward to a unique and unforgettable experience, undisturbed views of Prague's monuments from the deck or directly from the open deck, and of course, a stylish buffet dinner, where you can choose according to your taste.
For higher comfort we recommend the guaranteed window seating.
Covid info
Due to the order of the Government of the Czech Republic, as of 1.11. 2021 we are obliged to check the infectivity of each passenger when entering the boat according to the ONT system (vaccination, illness, test). Unfortunately, we cannot let you on board without proof of infectivity. Thank you for your understanding and cooperation.
| | |
| --- | --- |
| Adults: | 59 € * |
| Children: | 39 € * |
Window seating
| | |
| --- | --- |
| Adults: | 69 € ** |
| Children: | 49 € ** |
Duration: 3 hours
*A private table in the aisle may be booked even for just one person. **Table by a window may be booked from two persons (two tickets per order is minimum). Animals are not permitted aboard.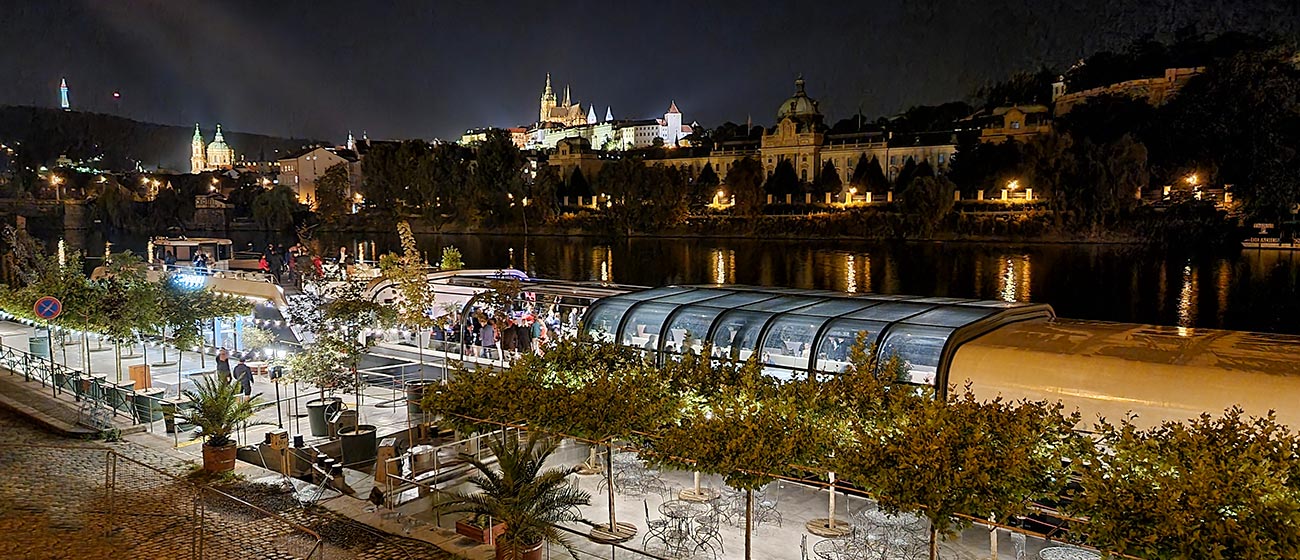 Check-in
What time do I have to check in?
Please check in at our office on platform number 3 no later than 10 minutes before the cruise:
Boarding takes place from 18:30–18:50.
Please arrive in good time to ensure a relaxed start to your evening!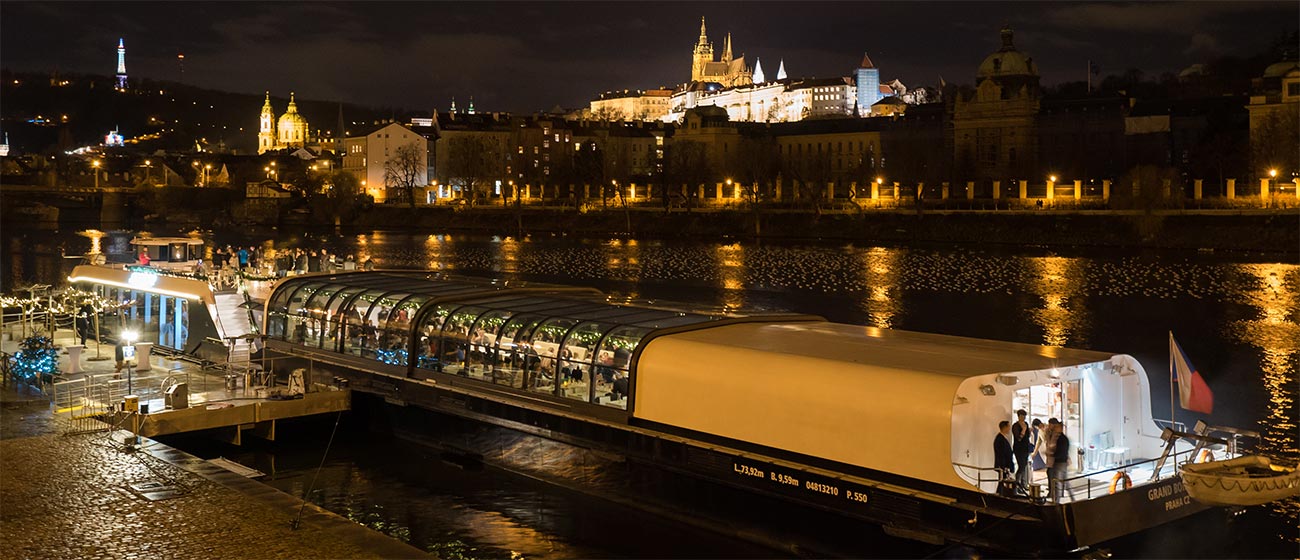 Reservation
Do I have to book a cruise?
The Crystal Dinner Cruise must be booked in advance through our online booking service.
Tables without a window may be booked even for just one person.
Tables with a window may be booked from two persons. One person must buy at least two tickets.
When you reserve online, you also receive a 10% discount.
Boat
Which boat will I be on?
Our Crystal Dinner is hosted on one of our three state-of-the-art glass boats.
You will be informed of which boat you will be sailing on upon check-in.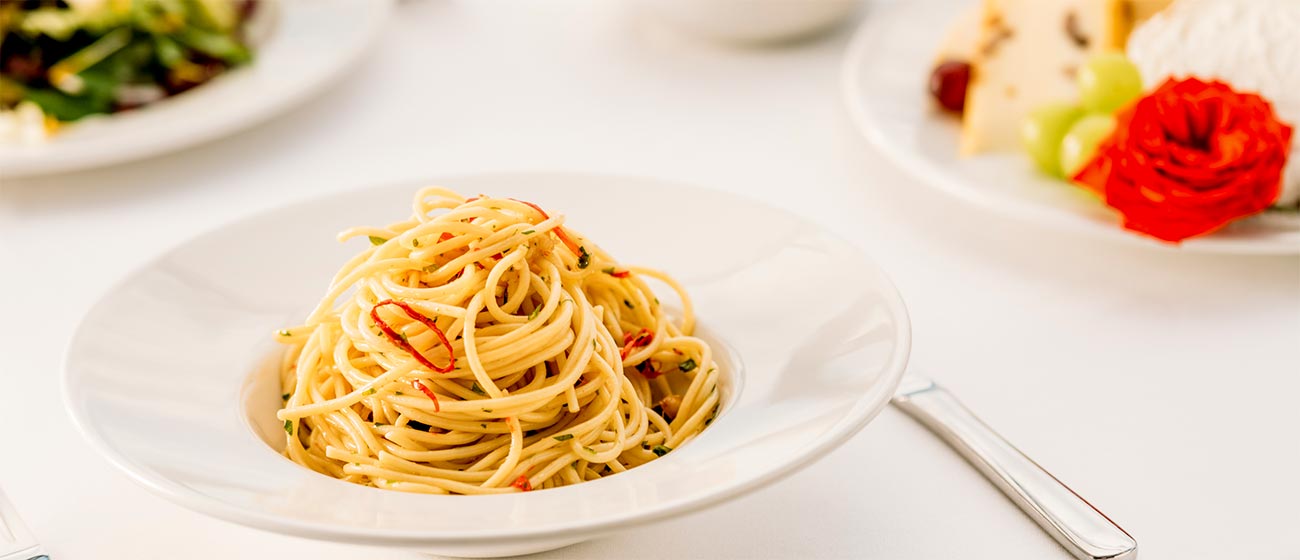 Vegetarian menu
I am a vegetarian, what will I eat?
Our menu includes the following options for our vegetarian guests:
Greek salad
Coleslaw salad
Chopped salad
Baked potatoes with zucchini
Spaghetti with cherry tomatoes and basil
If you have other dietary requirements, such as an allergy to certain foods, please do not hesitate to inform the ship's staff.
Sights
Yes, you can look forward to beautiful views of Prague's sights and panoramas.
and many more.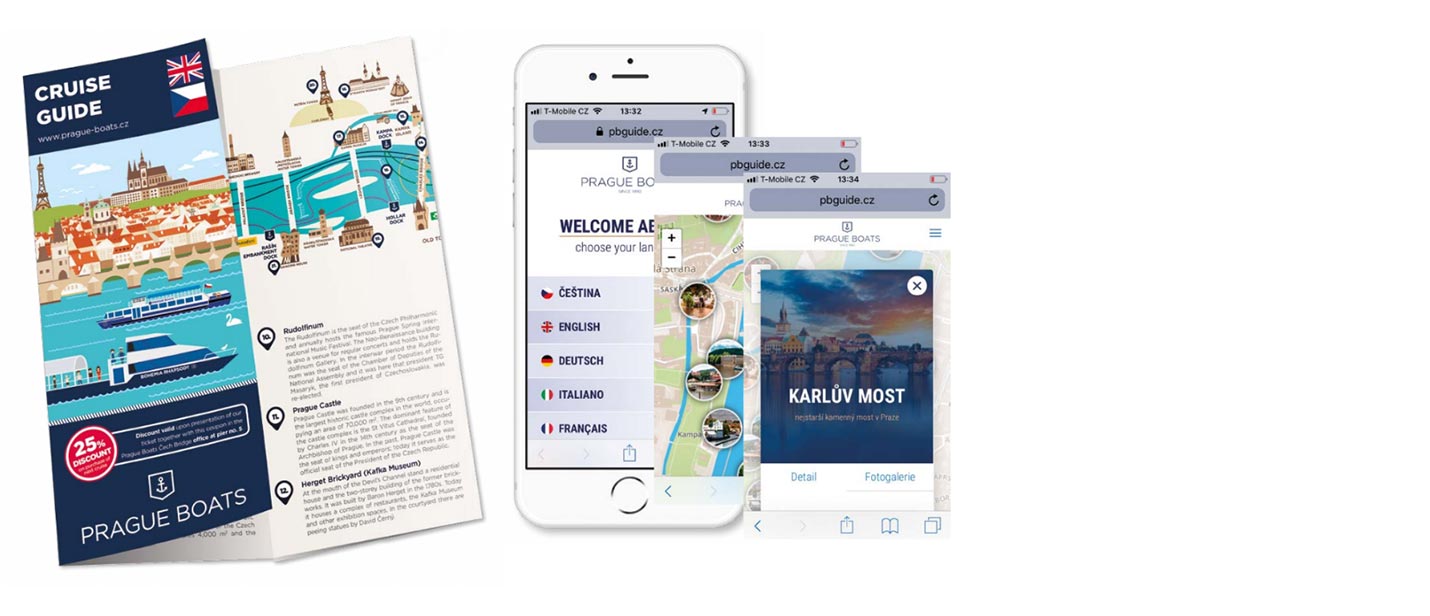 Guide
Is there a guide on the boat?
It is up to us to make sure you enjoy the cruise as much as possible and learn many interesting facts about the sights you see. We have for you:
A free printed guide in 16 languages
Free wifi
Interactive guide for you mobile phone free of charge
We recommend using the interactive guide that you can use on your mobile phone during the cruise free of charge.
You may also like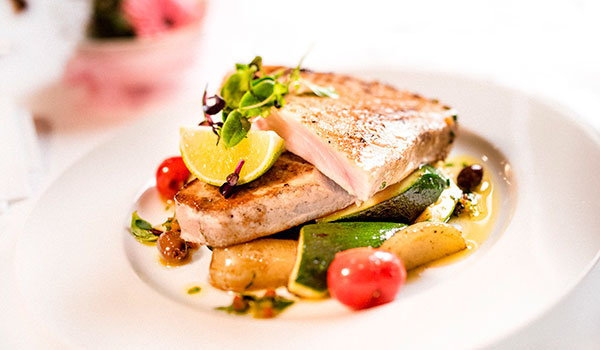 A gourmet experience with views of Prague awaits you during a three-hour cruise in the elegant setting of the Lužnice boat.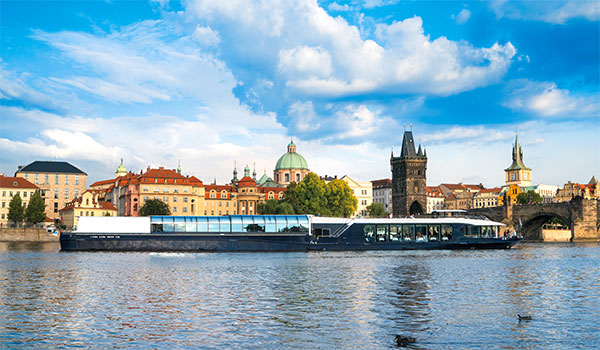 The modern glass boat with an impressive capacity of up to 550 people is an attractive place for corporate and other events.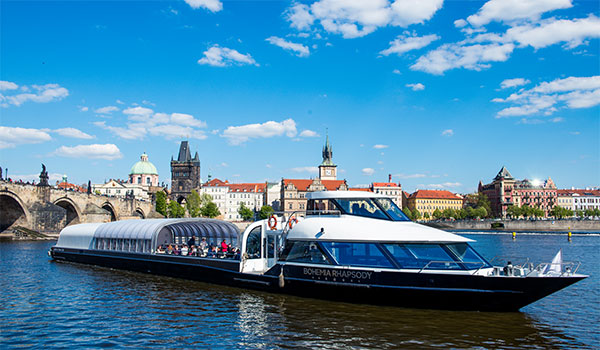 A modern cruiser with retractable glass roof and capacity of up to 220 seats for sightseeing cruises and private rentals.