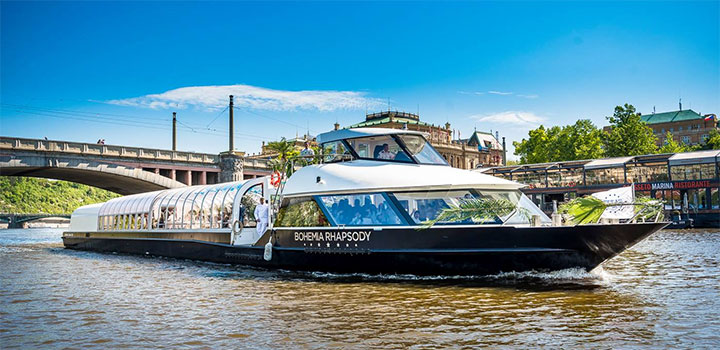 A brand new sightseeing boat was introduced today in Prague – Bohemia Rhapsody. Together with her older sister Grand Bohemia (introduced last year), they are the most moder boats on the Vltava river. The boat has five patrons:
Jejími patrony se stali:
Vera Hampl - architekta
Dr. Arndt Freiherr Freytag von Loringhoven - Ambassador of Germany to the Czech Republic
Rudolf Fischer - President of Czech-German trade and industry chamber
Oldřich Lomecký - Mayor of Prague 1 
Petr Kubala - General Director of Povodí Vltavy
Petr Kužel, Chairman of the Prague Chamber of Commerce
We are very happy that such an event could take place this year as it is Prague Steamboats company 150th anniversary. We also believe that Bohemia Rhapsody will impress you with her perfection and elegance.
The boat will be cruising the the Vltava river on regular cruises and you can - of course - rent her for private events such as company parties, teambuildings, weddings etc.
We are looking forward to seeing you on the boat!