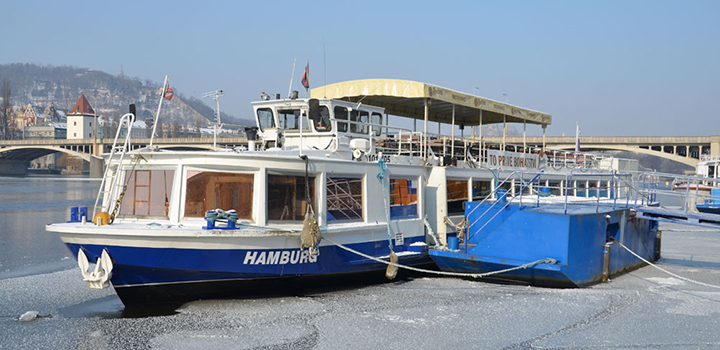 With the winter looming on the horizon it could seem that life on the Vltava would calm down, but the opposite is true. All boats are cosily heated and the view of snow-covered Prague whilst indulging yourself with a warm drink  is truly an unforgettable experience. This winter season you can choose from a large variety of cruises:
5/11 - 15/3 11:00, 12:00, 13:00, 14:00, 15:00, 16:00, 17:00, 18:00, 19:00
24/12 doesn't sail
5/11 - 15/3 15:00
5/11 - 15/3 only Fri, Sat, Sun 12:00
Throughout the whole year - 19:00
5/11 - 6/1 20:00 (Fri, Sat)
You can find detailed information about all the cruises here.
You can also rent boats and steamers for a private event, such as a company Christmas party, a wedding or even a birthday party. If interested, please contact us, we will be more than happy to advise you.
Where do the boats depart from?
All cruises begin at the Dvorak Embankment at Cechuv bridge by the Faculty of Law. You can reach us either
on foot (at the end Parizska street from the Old Town Square)
by tram (tram stop "Pravnicka fakulta", tram No. 17)
by car (there is a green zone by the Faculty of Law and Rudolfinum)