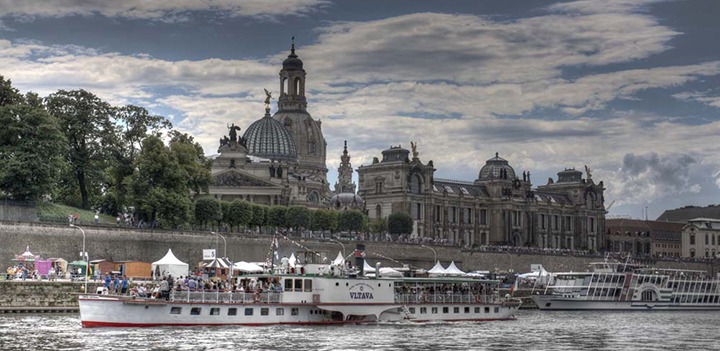 The river cruise from Děčín to Dresden is a spectacular full-day boat trip through the picturesque region of Elbe sandstone highlands and the magnificent scenery of Bohemian Switzerland National Park; coupled with a short stop in Hřensko and a guided tour of Dresden.
Our friendly experienced guide will be looking after you during the entire time delivering informative talks and ready to answer all the questions you might have.
Before landing in Dresden you will have lunch on the board of our boat Odra and well-refreshed you will be ready to set off on a guided or self-guided tour of the town full of architectural jewels such as Zwinger, Royal palace or Frauenkirche. On the way back we will serve you dinner and you will relax and enjoy tasting of our range of select wines.
For those interested in accommodation we will happily arrange a stay at the 4-star Hotel Praha located in the heart of Bohemian Switzerland National Park in Hřensko.
This cruise comes in three variations:
1. River cruise from Děčín to Dresden
A full-day cruise through the splendid scenery of Bohemian Switzerland NP. Lunch, gourmet wine tasting and "navy" dinner are all inclusive. Our friendly knowledgeable guide will enhance your experience during both the boat trip and the tour of Dresden.
1/5 - 31/8
Price with refreshment: Adults 1980 CZK, child 990 CZK
Price without refreshment: Adults 1280 CZK, child 640 CZK
Contact:
Tel: +420 778 003 737 (9am - 5pm)
Email: info@lodidodrazdan.cz
Web: www.lodidodrazdan.cz