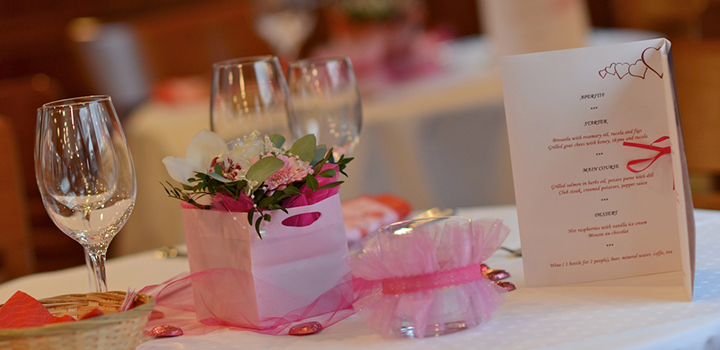 Valentine's Day (14 February, on a Saturday this year) is a special occasion for lovers. What better way to celebrate than with our Sweet Prague Valentine's Day Cruise along the River Vltava through the magical centre of Prague.
Join us and surprise your partner with a three-course gourmet dinner, accompanied by excellent wine and live piano music. Each lady will receive a red rose.
Our cosy boat is luxuriously decorated and fully heated. Table arrangements guarantee privacy, and window seats offer spectacular views of the city.
Departure:
From quay no 3 at Čechův Bridge
14/2
19:30 (boarding from 19:00)
Duration:
150 minutes
Price:
2990 CZK/couple
Menu*
Aperitif
Prosecco frizzante DOC
***
Starter
Carne di maiale tonnato
Slices of pork with creamy sauce, tuna and capers
Insalata Caprese
Tomato, mozzarella, fresh basil
***
Main course
Salmone alla griglia con patate gratinate al latte
Grilled salmon with creamy gratin potatoes
Risotto ai funghi  porcini
Wild mushroom risotto
***
Dessert
Panna cotta della casa
Home-made panna cotta
Tiramisu della casa
Home-made tiramisu
***
Wine
(1 bottle for 2 persons)
bottle of white wine Soave, Corte Marina 2013, Italy
bottle of red wine Primitivo IGT, 2013, Italy
*You can choose one option from each course of the menu listed above