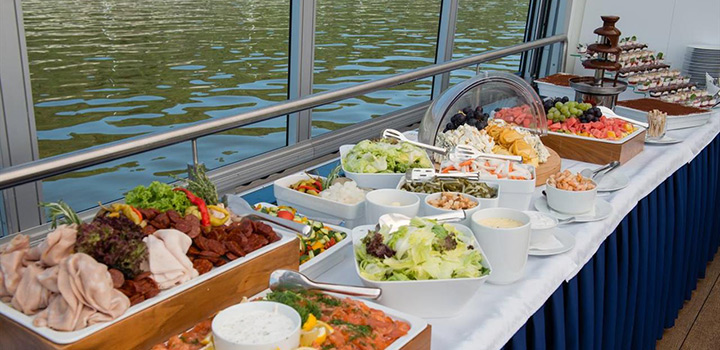 Brunch is a naturally social meal and a great way to make your weekend distinct. But why not, try something unusal – our newest dining experience - Bohemia Rhapsody Sunday Brunch!
Brunch at Prague Boat Bohemia Rhapsody is always an occasion and not only because you can enjoy Prague's historical monuments from a new perspective but also unique menu and relaxed atmosphere.
Brunch which combines a sumptuous buffet complemented by Prosecco welcome drink.
The brunch selection is huge with both hot and cold dishes to enjoy.
You'll also enjoy unlimited consumption of house red and white wines, tapped beer Pilsner Urquell 12, homemade lemonades, coffee, tea, sparkling and non-sparkling water.
Kid friendly 
This brunch is kid friendly. At Bohemia Rhapsody is a separate play area with professional supervisors.
Kids up to 5-years-old can eat for free.
Vegetarian option available.
Cruise Timetable:
| | | |
| --- | --- | --- |
| 30.8. | 11.30 (the boat will open at 11:00) | Buy online |
Reservations are required at least 24 hours in advance.
Bohemia Rhapsody Brunch:
Welcome drink:
Prosecco Introvigne DOC, frizzante/homemade lemonade 
Cold refreshments:
Czech and foreign cheese platter (Gouda, smoked Emmental, Brie, Balkan cheese) with walnuts and onion marmalade
***
Czech and foreign cold cut platter (mortadella, ham off the bone, chicken ham, Hungarian salami) with pickled vegetables
***
Caesar salad with Parmesan and croutons (chicken/prawns)
***
Salt-cured salmon marinated in dill with sour cream lemon dip
***
Green salad with herb dressing
***
Fresh vegetables (cucumber, tomatoes, peppers, carrots, radishes, celery stalks) with yoghurt dip
***
Homemade pickled gherkins with chilli and ginger
Warm refreshments:
Genuine Russian borsht with sour cream
***
Fillet of pike-perch in clarified butter with coarse-grain sea salt and herbs
***
Chicken roulade with green onion and baby carrot stuffing and rosemary sauce
***
Pork and chicken mini-schnitzels
***
Roast beef in pepper crust (sliced in front of the guests) with Dijon mustard sauce
***

Jacket Grenaille potatoes with fresh herbs
***
Bean ragout ('cowboy beans': red onion, beans, chopped tomatoes, garlic, herbs and spices)
***
Grilled tomatoes
***
Portobello mushrooms stuffed with chopped olives and shallots and topped with melted Parmesan
***

White and whole-grain pastry, cheese spread with chives
Desserts:
Chocolate fountain with fresh fruit (Belgian chocolate with a selection of seasonal fruit)
***
Homemade tiramisu
***
Mini-desserts from sour cream (with strawberry sauce/chocolate/honey with walnuts)
Drinks:
Pilsner Urquell 12° on tap
***
White/red house wine by the glass
***
Soft drinks: homemade lemonade, still/sparkling water
***
Coffee, tea
Price:
45 € (adults) | 22,5 € (children 5- 12 years of age)