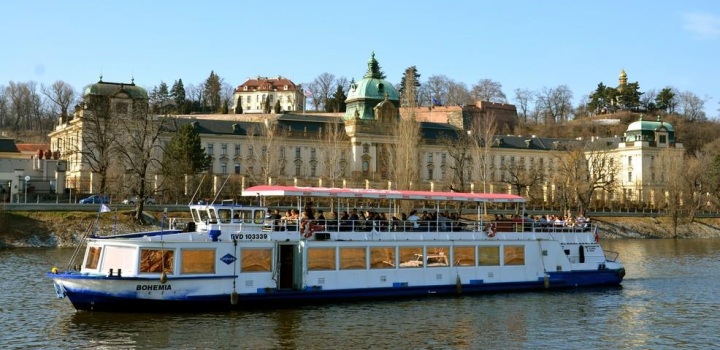 Spring is almost here and so it's time for a little overview of the cruises that we are currently operating or that will soon begin.
Until the end of March we will operate daily hour-long cruises every hour on the hour between 11:00 a.m. and 7:00 p.m. From 1 April there will be even more cruises per day. We also operate a daily hour-long cruise with snack and drinks at 11:00 a.m., 2:00 p.m. and 4:00 p.m.
Until 31 March there is also a daily two-hour cruise through Prague, but for the time being we only operate it once per day, at 3:00 p.m. You can take the two-hour cruise with snack and drinks daily at 3:00 p.m.
Cruises on the Devil's Channel depart daily at 12:30 p.m., 2:30 p.m. and 4:30 p.m.
We continue to operate our dinner on board cruises daily at 7:00 p.m. from Čech Bridge. We also offer a lunch on board cruise at noon on Fridays, Saturdays and Sundays, and beginning 15 March, also daily.
On Wednesdays, Fridays and Saturdays at 8:00 p.m. our boat the Lužnice departs on the very popular Sweet Prague cruise. From 29 March this cruise will depart daily.
From the beginning of March you can also take advantage of our offer of private cruises on mahogany boats. It's a good idea to reserve these in advance and they are always contingent on the weather.