The September term of brunch on Bohemia Rhapsody
August 14, 2017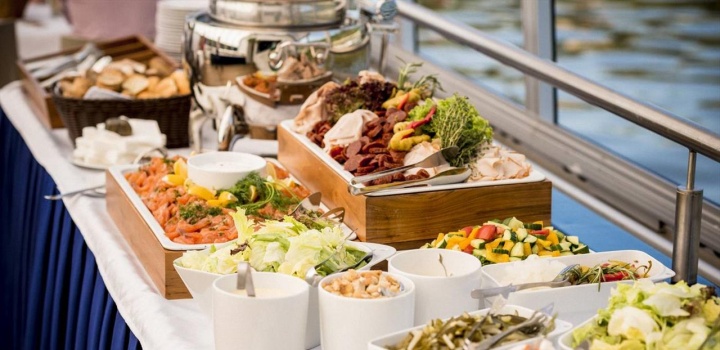 The September term of brunch on Bohemia Rhapsody is looming on the horizon. The boat sets sail on Sunday 17th September at 11:30 from pier No. 5 at Čech Bridge.
However, the boat will be ready for you half an hour before, at 11:00. The cruise with brunch lasts 150 minutes.
You can now buy a cruise on Bohemia Rhapsody below.
---
Price:
59 € (adults) | 39 € (children 5 - 12 years of age)
Duration:
150 minutes
17. 9.
11.30 (the boat will open at 11:00)
Reservations are required at least 24 hours in advance.

View menu
Bohemia Rhapsody Brunch Menu
 
Welcome drink
Prosecco Introvigne DOC, frizzante/homemade lemonade 
 
Cold refreshments
Czech and foreign cheese platter (Gouda, smoked Emmental, Brie, Balkan cheese) with walnuts and onion marmalade
Czech and foreign cold cut platter (mortadella, ham off the bone, chicken ham, Hungarian salami) with pickled vegetables
Caesar salad with Parmesan and croutons (chicken/prawns)
Salt-cured salmon marinated in dill with sour cream lemon dip
Green salad with herb dressing
Fresh vegetables (cucumber, tomatoes, peppers, carrots, radishes, celery stalks) with yoghurt dip
Homemade pickled gherkins with chilli and ginger
 
Warm refreshments
Genuine Russian borsht with sour cream
Fillet of pike-perch in clarified butter with coarse-grain sea salt and herbs
Chicken roulade with green onion and baby carrot stuffing and rosemary sauce
Pork and chicken mini-schnitzels
Roast beef in pepper crust (sliced in front of the guests) with Dijon mustard sauce
Jacket Grenaille potatoes with fresh herbs
Bean ragout ('cowboy beans': red onion, beans, chopped tomatoes, garlic, herbs and spices)
Grilled tomatoes
Portobello mushrooms stuffed with chopped olives and shallots and topped with melted Parmesan
White and whole-grain pastry, cheese spread with chives
 
Desserts
Chocolate fountain with fresh fruit (Belgian chocolate with a selection of seasonal fruit)
Homemade tiramisu
Mini-desserts from sour cream (with strawberry sauce/chocolate/honey with walnuts)
 
Drinks
Pilsner Urquell 12° on tap
White/red house wine by the glass
Soft drinks: homemade lemonade, still/sparkling water
Coffee, tea