The Hol Ka is a new and modern transport boat intended for transport in Prague 7. Its name combines the first letters of the names of Prague districts Holešovice and Karlín, which are connected via Štvanice Island. Ferry transport has returned here after an 85-year absence.
The boat operated by the Prague Steamboat Company was built with a view to passenger comfort and the specific local conditions. The most important criteria were wheelchair accessibility and the boat's submersion.
ceremonially launched on 7 August 2015
fast and manoeuvrable high deck catamaran
completely wheelchair accessible
comfortable interior and lots of space for baby carriages or bikes
rear deck is covered
deck height above water surface 0.5 m, clearance height 175 cm
displacement 2 tons
engine horsepower 18 kW (in the future it will be replaced with an environmentally friendly electric motor)
equipped with an echosounder to monitor the depth of the Vltava riverbed
| | |
| --- | --- |
| Max. capacity | 12 |
| Submersion | 0.4 m |
| Length | 6 m |
| Width | 2.6 m |
You may also like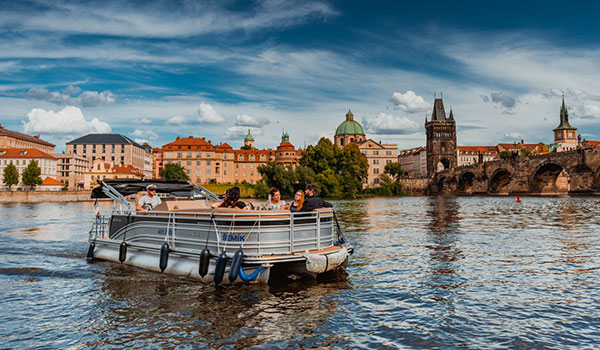 Rent a small luxury eco-powered boat for a private cruise full of romance and beautiful views.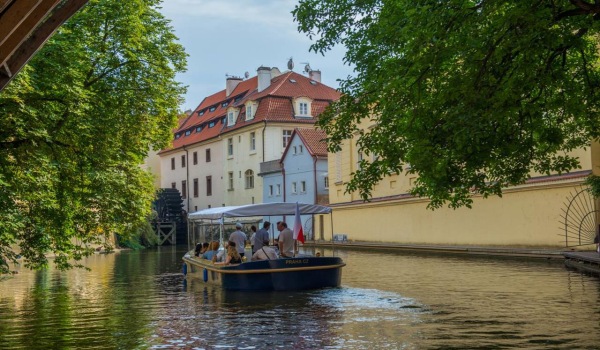 Uncover the secrets of the Vltava canal during a one-hour cruise on a small boat with the fascinating narration of the captain.